Revenge of the PC-8801mkII floppy adapter board
In the last entry, I found myself with a working adapter board to allow a 3.5" floppy drive (like a Gotek) to work with the NEC PC8801mkII. This liberated me from having to source, organize and maintain 5.25" floppy disks, and opens a large library of software for this computer without having to hunt through the used market. However, like all good things, there were a lot of bugs with the old adapter.
The connector was on backwards, it was a little bit narrow for the PC88 side of things so the adapter had to be inserted carefully, and with all the patch cables it would have been impossible to tuck the drive in nicely or reproduce the setup reliably. With these concerns in mind, I set to work revising the floppy board to address the problems. I think I did a pretty good job.
Since the last entry, I discovered AllPCB, who will send me "five" (actually six) tiny PCBs with free shipping for only ten bucks US. I jumped on this offer for not just this but also another board, because sooner or later they're going to figure it out and crank up the shipping rates on Canadians like everyone else on the planet.
After about a week, the new boards arrived. Here they are in their vacuum-sealed bubble wrap.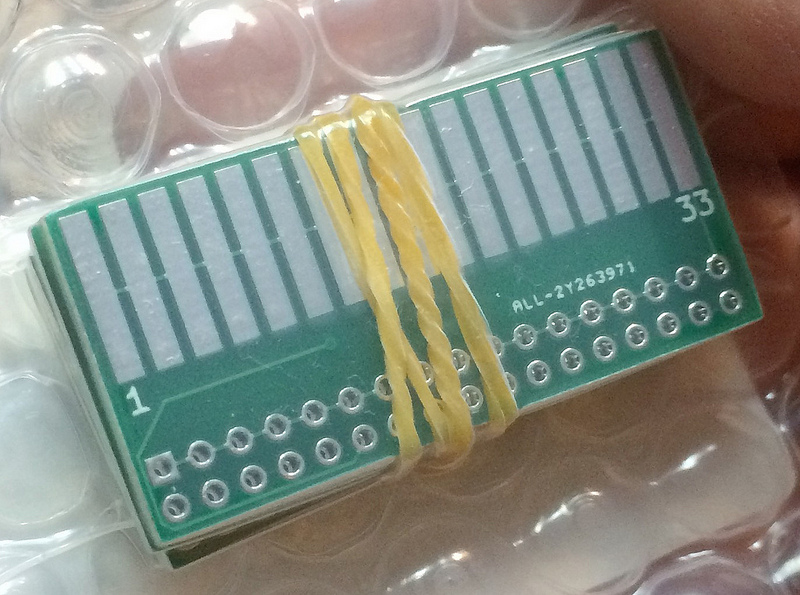 The board turned out great. I was so pleased, I immediately put in another order for something else that will be part of a future entry.
I'll spare you a picture of having put a 34-pin female IDC header on the drive, not least because I didn't take such a picture. Maybe when I build the adapter for the other drive bay…
After lining up the key on the new drive connector, and sliding the other end into the ribbon connector, we are now able to get rid of the tangle of jumper cables. So clean!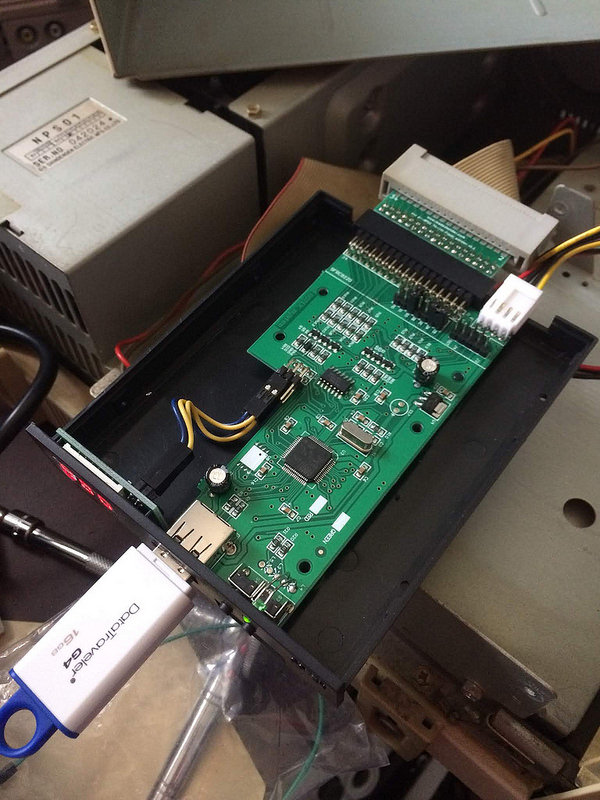 Having to arrange the cable in this way involved twisting the stock ribbon cable so that the 'ground' pins faced down instead of up. It's not a tight twist, but it is more than I really wanted to do. However, the drive would have looked stupid going in upside-down, and looking ugly is worse than potential unreliability.
We can now close up the case and admire the fully-assembled PC88. I think I'm going to need to pick up one of those 3.5"-in-5.25" drive bay adapters to make this look good, and more importantly, not shake around when I move the machine in the future.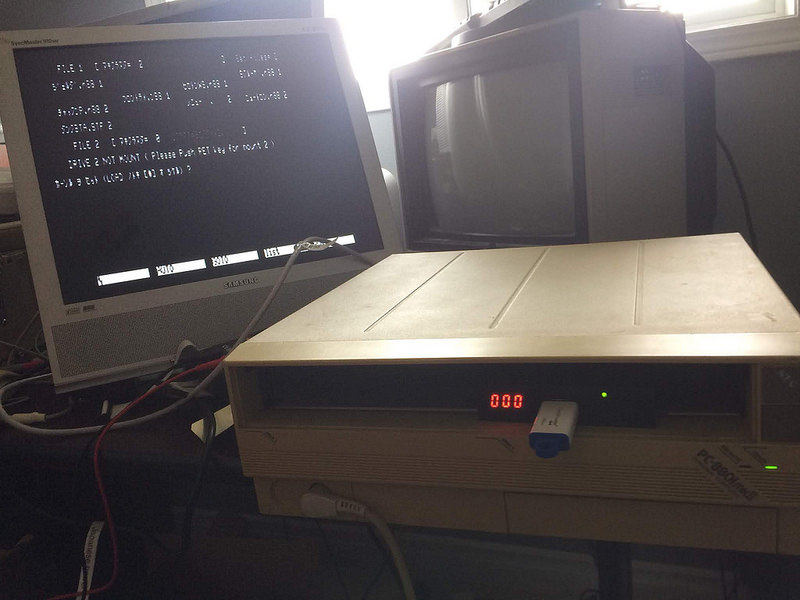 What's next for this intrepid little computer? One of the other boards I built is a very tiny signal adapter to try and get the RGB digital colour video to work. Monochrome video just won't cut it anymore, not least because the video cable I made is not that great signal-integrity-wise. That board hasn't arrived from Oshpark yet, but I'm sure it will be here soon.